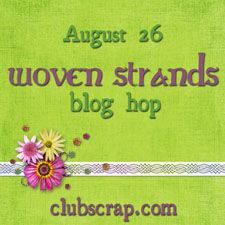 Welcome to the Woven Strands Blog Hop! If you arrived here from
Marya's Blog
you are in the right place. If you have gotten lost you can return to the
Club Scrap Blog
and start from the beginning.
The past month has been quite busy at my house as we prepared for my daughter's "Sweet 16" party. I spent all of my free time crafting for the "under the sea" themed party. One of the things I did for her party was to print over 200 square prints of Catie over the past 16 years and then I hung them from a fishing net. (Keep your eyes out for the party post).
After the party I am left with all of these awesome pictures through the years so I decided to start scrapping them for the hop!
This first picture is of my brother with Catie and her cousins. I LOVE the artwork of the Woven Strands collection and did not want to cover it up.
The more time I spend scrapping the more I am able to accept that I like simple, clean layouts.
I added a few embellishments from my stash and some pieces from my Woven Strands HPOP. It is so nice to have smaller pieces of the kit cardstock to use and not have to cut up the larger sheets.

My second layout is a great picture of Catie and her dad.
Have I told you how much I LOVE this art work?
Thanks for stopping by today! Next head on over to
Lisa's Blog!
You can also check out the whole Woven Strands Collection
HERE.
{HUGS}