Welcome to the Picnic Blog Hop!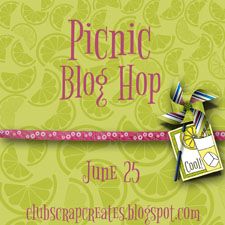 If you have lost your way you can return to
Club Scrap Creates
blog to see the full list of all the talented bloggers participating today.
So every year my family goes away for a week to what I loving refer to as "camp". Think "Dirty Dancing" just not as glamourous and there is no Patrick Swazye! It is my favorite week of the year as I do not have to cook or make a bed and it is the one week of the year I can do nothing and not feel any guilt! Every year I bring my scrap stuff and have time for myself.
We are currently at "camp" and I have made this mini toilet paper roll album. This is an awesome project my friend Judy found and it is quick to put together. If you would like to make one you can find it
here
. I can tell you that my pictures do not do this project justice.
The
Club Scrap Picnic Kit
was the perfect collection for an album of camp pictures. I just LOVE this kit. It is so bright and happy and perfect for summer pictures!
This is the album from the front.
Inside you create a paper hing system and then the pages are flattened toilet paper rolls that are just covered with paper.
Since you use toilet paper rolls each page is a pocket that can hold a tag.
Thanks so much for stopping by. Your next stop on the hop is to
Debby's Blog
.
Wishing you a wonderfully creative day!
Anne Marie